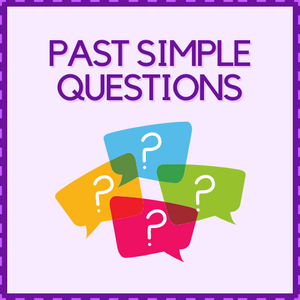 Translingual
Unfortunate events and Past Simple questions
Regular price
€4,00
€0,00
Unit price
per
Tax included.
Language: English

Level: A1/A2
Number of pages: 32 slides
Worksheet time: 60'
This PowerPoint presentation will dispel the doubts your students might have about making questions in Past Simple. It explains clearly the grammar while being effective and fun. This lesson is dedicated to A1/A2 students of all ages.

Warm up & Vocabulary
This is an introductory part. Students learn new vocabulary and practise affirmative Past Simple forms. It is best if the students already know the affirmative Simple Past forms. The first exercise teaches them full expressions, such as "lose my keys", "miss the bus", etc. Next, they will brainstorm about other unlucky situations.

Role play
We will play a fun and interactive game. Students choose a number from 1 to 6 and press the button in the presentation. The button takes us to the slide which shows an unfortunate event. Students will have to pretend it happened to them and tell everyone how they reacted. Please remember to use the presentation in presentation mode for the buttons to work and use the "GO BACK" button for better interaction.

Video
In this part you are going to watch a funny video in which a comedian talks about questions his wife asks. Students will have to write down all the questions and check them afterwards.

Grammar
This part explains how to create Past Simple questions, first 'was/were' questions, then questions with 'did'. We use colorful blocks to teach the order of words in questions. Then, there are two gap filling exercises where students can practise even more.

Speaking
Our speaking exercise combines the vocabulary and the grammar part. Students are asked to talk about a moment in the past when something unexpected happened to them. Additionally, there are four questions stimulating the discussion.

Let us know what you think about this lesson plan in the comments!

---