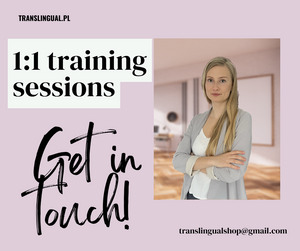 Translingual
Teacher training sessions with Ada
Regular price
€50,00
€0,00
Unit price
per
Tax included.
Meet me to ask questions about worksheets, teaching methods or ideas for your classes. I have helped teachers gain confidence in the classroom and find the best methods that suit their needs. In my career I have taught over 200 students (in groups or individually) from different countries, children, teenagers and adults and I have lots of experience to share with you!
I am extremely passionate about education and I am committed to helping you improve your teaching practice. I will provide you with practical tips and strategies that you can immediately implement in your classroom, along with practical materials.
My training sessions cover a wide range of topics, including lesson planning, classroom management, student engagement, technology integration, and more. We offer both in-person and online training options, so you can choose the format that works best for you.
Not sure yet? Drop me an email: translingualshop@gmail.com 
---