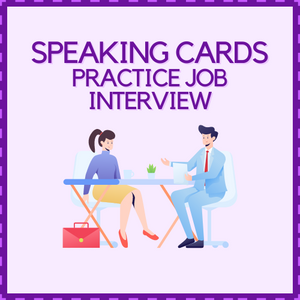 Translingual
Speaking cards - practice job interview questions with Past Simple
Regular price
€0,00
€0,00
Unit price
per
Tax included.
Language: English

Level: B1

Number of pages: 2

Worksheet time: 45'
Get your students talking with our themed conversation cards. These speaking cards will encourage your students to ask and answer questions using Past Simple. They can practise both grammar and Business English vocabulary. These cards provide students with some common job interview questions and they can be useful for them not only as candidates, but also as recruiters.
First, your students need to create correct questions with the given phrases and infinitive verbs. Then, they ask each other questions, or (in case of individual lessons) they answer the questions themselves.
The questions can be used as a warm-up or a conversation lesson. You can cut them and use them during your face to face lessons or share them with your students online.
---