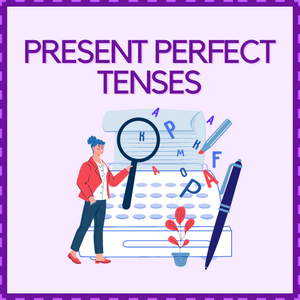 Translingual
Present Perfect Tenses
Regular price
€2,00
Sale price
€4,00
Unit price
per
Tax included.
Language: English

Level: B1-B2
Number of pages: 19 slides + 1 worksheet page
Worksheet time: 1h
Looking to enhance your English grammar skills? Look no further than our comprehensive lesson plan that focuses on the differences between Present Perfect Simple and Present Perfect Continuous.
Designed for intermediate to advanced English language learners, this lesson plan offers a comprehensive overview of the key differences between these two tenses, including when to use each one, how to form them, and how they differ in terms of their usage in spoken and written English.
This lesson plan includes a presentation that features 19 informative slides, packed with examples and clear explanations to help learners grasp the concepts easily. In addition, a one-page practice worksheet is included to help reinforce the key points of the lesson and ensure learners retain the information they've learned. It can also be used as homework. 
Presentation
Let's make it clear - this part is quite grammatical. We will explain the structure of the tenses, including positive and negative sentences and questions. You will also have a chance to practice with a few speaking exercises. We do not recommend using this lesson plan to introduce Present Perfect tenses for the first time. It's best if students have already gone through  these tenses and now they need to understand the differences between them and practice.
Worksheet
The worksheet has been designed in order to leave homework to your students or allow them to do exercises, which can be performed in a written form. We prepared two tasks for you - a text with gaps and a paraphrasing exercise.   
Enjoy this worksheet at a special price and let us know what you think about it in the comments!
---