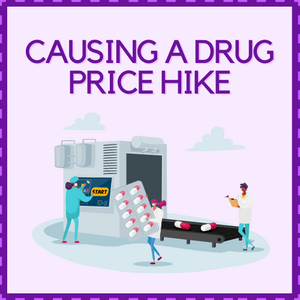 Translingual
Causing a Drug Price Hike
Regular price
€0,00
€0,00
Unit price
per
Tax included.
Language: English

Level: B2-C1
Number of pages: 5
Worksheet time: 1.5h
This worksheet's topic is about Martin Shkreli, the former CEO of a pharmaceutical company, who has drastically raised the price of a life-saving drug. The activities in this worksheet are mostly based on digital resources regarding this subject and will allow the student to practice the vocabulary from both legal and medical fields. In the grammar part, students will revise Passive voice.

Vocabulary
The first part of the worksheet contains various exercises focusing on the vocabulary related rather strictly to the legal field. The student has to match concepts to their definitions and then properly use them in given sentences. The next exercise contains words that can have various meanings, check if your students know what they mean!

Listening
This part is based on a YouTube video explaining the case of Martin Shkreli. After viewing the material attentively, students need to answer a couple of questions and complete sentences provided in the next exercise with the vocabulary used in the video.

Reading & Speaking
The following exercises focus on reading comprehension as well as vocabulary. Students read an article and then complete the gaps with missing words based on their definitions. Then, after getting to know the topic of Martin Shkreli better, students can practice the acquired vocabulary by answering the questions given below and discussing them. At the very end of the lesson. students use an infographic to put together the whole story presented in this worksheet.

Grammar
The grammar part of the worksheet concerns Passive Voice. It contains a note reminding the general rules of using this structure and a couple of exercises, which let students practice it by changing various sentences from active to passive voice.
---